Finalist - Small Business of the Year
Crystal Clean Green Cleaning is one of 33 finalists for the 40th Annual Manatee Small Business of the Year Awards. This honor celebrates small business and non-profits that have stellar customer service, dedicated employees, business growth, and supporting our communities.
Earth Day at Oscar Scherer State Park
Returning for our third year to the event The Friends of Oscar Scherer State Park 30th Annual Earth Day Festival - April 2019
Collecting Food to Help 250 Families
Ending our 2018 drive, we collected enough food to provide meals to 250 local families in Sarasota and Manatee Counties. Our program in 2018 was our third year collecting food for All Faiths Food Bank and we look forward to our next drive. Items are donated from the community, our employees, and clients.
Healthy Sarasota County Worksite
Rated, and maintained, in the high standards of the CDC Worksite Health ScoreCard in areas of nutrition, physical activity, weight management, tobacco control, stress management, diabetes, disease prevention, breast feeding support, and other areas. Crystal Clean Green Cleaning is one of 21 Healthy Sarasota County Worksites.
Crystal Clean Green Cleaning recycles plastic, glass, and paper items in it office. All consideration is in reducing the amount of consumables in the first place; such as being a paperless office, bulk purchasing, choosing containers, etc.. When applicable, all items are recycled.
What does being a GREEN and SUSTAINABLE business mean to us?
We are thrilled to announce that we were recently nominated for a Sustainable Business Award with The Sustany Foundation which is held to acknowledge and honor businesses in Tampa Bay that embrace the Triple-Bottom line, which are: Social Responsibility, environmental stewardship, and economic impact (people, planet, and profit).
When starting the company I would be surprised if we could stumble our way through explaining the word "sustainable".
It surprises many that we were a "green" company since our first day of operation and it was not some marketing play we adapted halfway into the venture. We wanted to do a great job at cleaning and do it differently than most companies. We did not offer a "green" package for an extra-fee, it was all green, or nothing. Our chemicals and as much of our our supplies were certified green, eco-friendly, or organic.
We slowly started banking electronically and using the bank's mobile deposit feature. When we ordered supplies for the office we grouped the packing slip's in a way that the shipment was combined with other orders. When doing laundry, we procured machines that had the eco-friendly feature to reduce water and electricity. We recycled, re-purposed, and so on…
Over the course of several years we incorporated many different features, options, and processes until one day we took a step back and realized… WOW… We are REALLY green, dare we mention, a sustainable business!
See, we arrived to our current standards by doing what we thought was right for us, our community, our environment, our business, and our children.
It is a part of our Core Values: Be Real, Help Out, Make Money, and Have Fun
Sustainable Business Awards
2019 Nominee in the Small Business Category - The Award Ceremony to be hosted at The Florida Theatre in Tampa, May 22nd, 2019
The Junior League of Sarasota
2019 Silver Level Sponsors - All event proceeds go directly towards funding the Junior League of Sarasota's charitable community initiatives, including signature project of Hunger Outreach. The League strives to make a difference in the lives of others, and sets annual goals which directly benefit women, children and families in our area.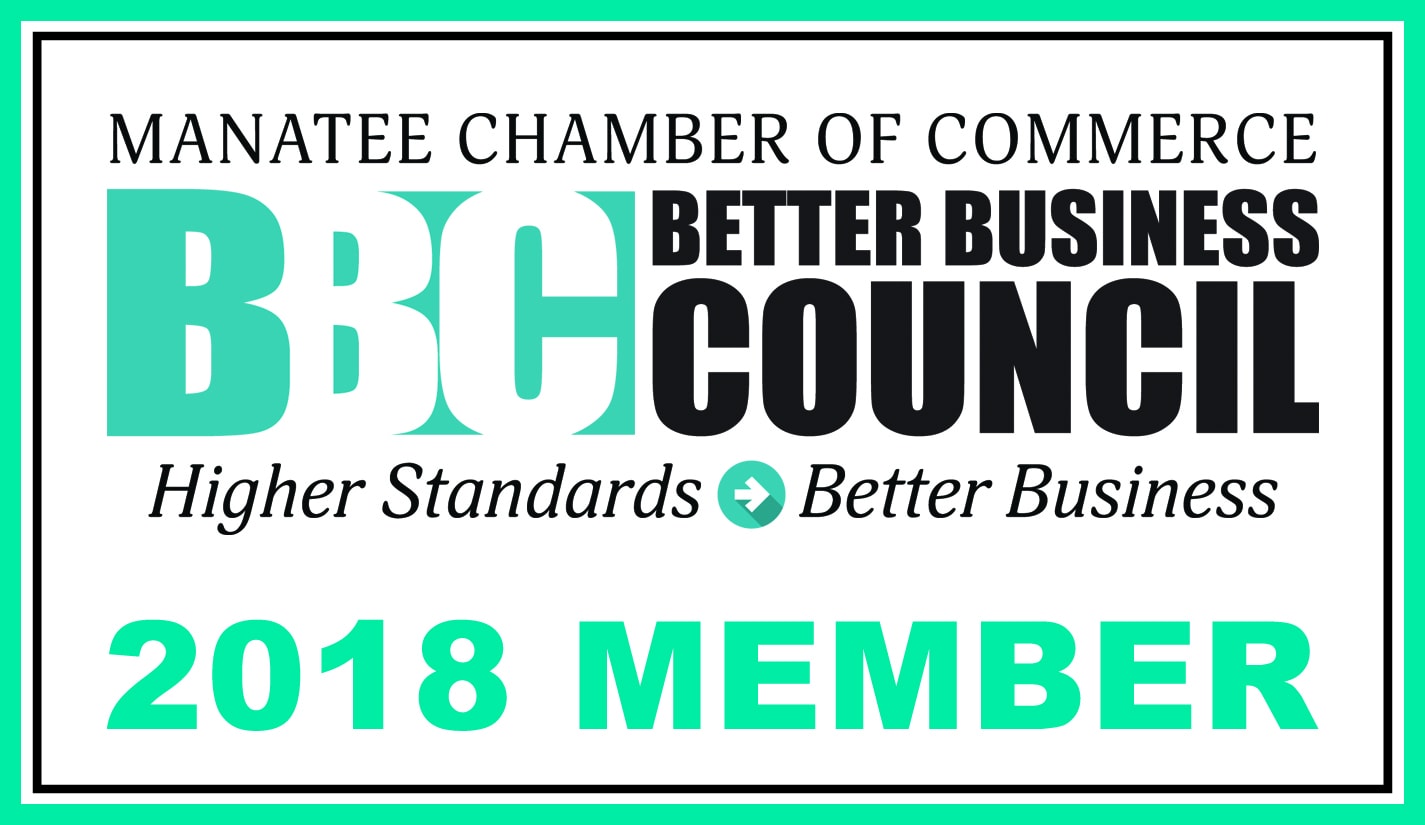 Since 2018 Crystal Clean Green Cleaning has been a member of the Manatee Chamber of Commerce and the Better Business Council. The membership entails of a public promise to uphold highest standards and ethics in all lines of business operations
Sarasota County Green Business
Establishing our partnership in 2014, Crystal Clean Green Cleaning has maintained and improved its business standards. The SCGBP has recently been transferred to, and being managed by, USF.
Community Service and Volunteerism
CCGC and its team members volunteer for a non-profit organization on a quarterly basis. The non-profit and/or community program is selected by the team members based on personal interests and convictions.
It is not just "one thing" that we do to make us a green and sustainable business; it is how we come together, as a team, as a business, as a family and do all we can for the betterment of our community, economy, health, welfare, and environment…